A Comprehensive Guide On How to Fix a Corrupted SD Card
Unlike fragile portable storage devices such as external hard drives — for which even a slight jolt may be enough to join the whisperers — SD cards are normally manufactured to be resistant to physical damage, meaning that your memory card has a better chance of surviving extreme conditions like dust, water, shocks, and even drops from great heights than your HDD. 
However, there are a few important things to keep in mind. First, severe physical damage can extend beyond the visible connectors. That is to say, even if the storage seems to run smoothly after an incident, and looks normal, odds are good that you'll end up with partial or complete data loss caused by destructive processes within the corrupted SD card. Make sure to back up the data on your storage immediately after the incident to minimize potential losses.
Second, differently from the aforementioned HDDs, memory cards won't alert you about malfunctions with a distinctive sound like beeping or rattling. Here you can see a list of the most common symptoms of malfunctions on a memory card — it should help you identify the problem and choose the proper solution.
SD card is corrupted if:

doesn't appear in File Explorer

doesn't show media in Disk Management

suddenly shows up empty, files are missing

displays as RAW

became locked, write-protected or read-only

became undetectable or unrecognizable
Error messages, such as "A read-write error occurred on your sd card…", "SD card is damaged. Try reformatting it" and "The file or directory is corrupted and unreadable", are also signs of your microSD being corrupted.
SD card is damaged if:
is bent, damaged or partially broken

Is burnt or drowned

has scratches or abrasions on its chip

became unreadable

gives the "SD card is not available. The file or directory is damaged and cannot be read" error message
Slow performance can both be a sign of physical damage to the card as well as corruption. If you notice your memory card gets stuck or freezes during operation, or if the data transfer takes an unusually long time (in extreme cases it may take hours to download just a few photos), 
Once the problem is determined, you can proceed with suitable solutions to repair your micro SD.
Note: DIY repair is a rather risky undertaking, as it can lead to irreversible memory loss. In case your microSD contains a large amount of important data, it is better to have a data recovery specialist interfere with it.
How to Fix a Corrupted SD Card: Windows 10/8/7
The listed methods can help in a number of cases of different levels of memory card file system corruption. We suggest that you try each of the suggested solutions one by one.
#1. Reconnect Your SD Card
Sometimes, a memory card may become unreadable as a result of power supply issues or connection problems. While these few steps may seem silly, they allow you to exclude external factors.
Unplug your SD card, then reconnect it to the PC.

Change the SD card reader. Insert the memory card and connect it to your computer.

Switch the USB port. Reconnect your memory card card to the PC.

Try connecting your SD card to another computer. 
These methods can help you repair the micro SD card not detected by the camera, computer, or other devices, but can also work for logical errors in USB sticks as well as external or internal hard drives.
If the memory card doesn't appear, proceed to the next steps.
#2. Assign A New Drive Letter
If your SD card doesn't show up in Disk Management, the reason for this may be a conflict of its letter with the letters of other disks. As a result, your microSD may become unreadable, or act as corrupted.
Step 1. Press the combination of Win + X keys, then click on Disk Management.
Step 2. Find your SD card, right-click on it and choose "Change Drive Letter and Paths…".
Step 3. Choose Add/Change and select a new drive letter for your memory card. Hit OK to confirm.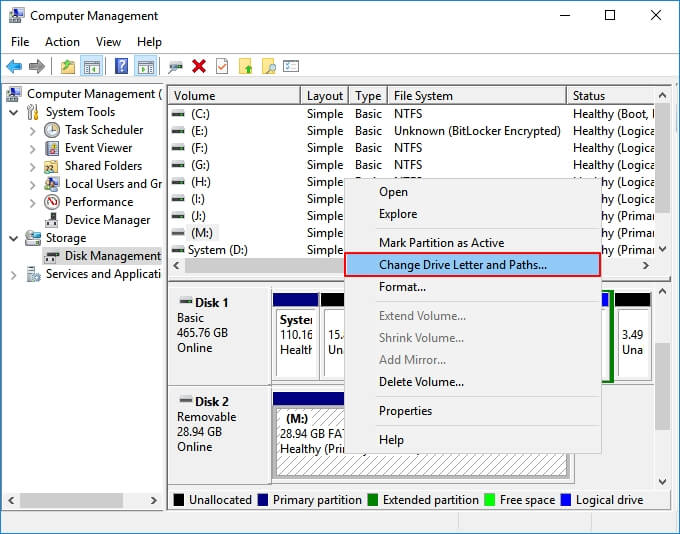 #3. Run CHKDSK to Repair Corrupted File System
Like any other removable storage device, microSDs can develop bad sectors over time. The CHKDSK command will check your SD card's file system for corruption or errors, and then repair it by removing the bad sectors.
Step 1. Insert your memory card into the card reader and plug it into the PC.
Step 2. Type cmd in the search box.
Step 3. Right-click Command Prompt and choose "Run as administrator".
Step 4. Type chkdsk F: /f /r /x, where F: is the letter of the corrupted SD card you'd like to repair, and press Enter.
The other letters in the command line stand for the actions that will be performed to repair your memory card's file system: /f is to fix any found errors, /r is to detect bad sectors and restore any readable data, and /x is to forcibly dismount the volume you are going to check before the utility starts scanning.
Step 5. Wait until the checking process is complete, then type exit.
See the message "Windows has made corrections to the file system" in the command window? If so, congratulations: the errors on your SD card have been successfully fixed, you can view and use your data again.
#4. Run Error Checking
Running Windows Error Checking is another helpful feature to fix SD card corrupted error.
Step 1. Connect your SD card to the computer.
Step 2. Open Windows Explorer by pressing Windows + E.
Step 3. Right-click the SD card. Open its Properties.
Step 4. Navigate to the Tools tab, then click the Check button. 
Once the scan process is finished, you should be able to access the data on your SD card. If this didn't work, move on to the next step.
#5. Run Windows Troubleshooter
Windows Troubleshooter is designed to help you troubleshoot hardware and driver problems. If your memory card has a similar problem, this one must work.
Step 1. Connect your SD card to the computer.
Step 2. Head to Windows Settings > Update & Security > Troubleshoot.
Step 3. Click "Run the troubleshooter" under the Hardware and Devices block.
Wait until the troubleshooting is complete, then restart the computer. 
#6. Run DiskPart to Unlock the SD Card
In case your SD card became locked, write-protected, read-only, or was encrypted with third-party software, running DiskPart to clear the read-only command is a fast way to deal with this kind of issue.
Step 1. Connect your SD card to the computer.
Step 2. Press Windows + X, and click "Command Prompt (Admin)".
Step 3. Type diskpart in the command prompt window, then press Enter.
Step 4. Type the command lines listed below, pressing Enter after each one:
list disk
select disk 1 (where 1 is the disk number of your memory card)
attributes disk clear read only
Step 5. Wait until the process is complete, then type exit.
#7. Format SD Card to FAT32 or exFAT
If your memory card is showing as RAW in Windows Disk Management, as well as if its file system is not supported by your camera or PC, formatting microSD to NTFS, FAT32 or exFAT is the best way to solve the issue.
Step 1. Connect your SD card to the computer, then go to File Explorer.
Step 2. Right-click on the SD card your need to repair, and select Format.
Step 3. Choose a proper file system: NTFS, FAT32, or exFAT.
Step 4. Tick "Quick Format" and press Start.
Note: While formatting itself may fix a dozen of logical issues to the failing memory card, it will result in complete data loss. If you can't afford losing the data your memory card stores, we recommend that you seek help from the SD card recovery service.
#8. Creating a New SD Card Partition
When the memory card becomes empty and appears as unallocated space, it won't show up in Windows File Explorer. To fix this one, you'll need to manually create a partition for Windows to recognize it.
Step 1. Connect your SD card to the computer, then open Disk Management.
Step 2. Right-click the unallocated space on the microSD and choose "New Simple Volume…".
Step 3. Follow the steps to assign a new drive letter, set the volume size, FAT32 or exFAT to the SD card.
Step 4. Hit OK to confirm and Finish to complete the process.
How to Fix a Physically Damaged SD Card
Retrieving files from a memory card that suffered mechanical damage is the most difficult type of data recovery. Unfortunately, if your microSD is bent, burnt, partially broken, or physically damaged in any other way, there's nothing you can do to bring your storage back to life.
However, here are some of the possible fixes we suggest you try:
1. Change SD card connection. Try another SD card adapter, USB port, or PC.
2. Wipe dust on the SD Card chips and reconnect the SD card to your machine.
3. Contact the manufacturer if the device is still under warranty.
4. Contact SALVAGEDATA recovery team for a free examination of your damaged memory card. Having more than a decade of experience in retrieving lost files, we offer a No Data, No Charge policy, which means you only pay if our specialists manage to reach the data on your damaged storage device.
Summarizing
There are a number of reasons for SD cards to fail. While you can fix some of them yourself, like minor logical errors or bad sectors, solving most others will require in-depth knowledge and, in some cases, specialized equipment. Don't hesitate to contact SALVAGEDATA professionals right away to get top-notch data recovery services and join the 96% rate of successfully solved data loss cases, or simply type "fix my phone sd" or "sd card near me" into your favorite search to get help from specialists.